Most Gucci products are very high quality and that quality is worth a lot (some Gucci shoes last for decades of regular use), however what you need to be more careful with is the construction of the shoe, specifically how the upper part of the shoe is connected to the sole.
Gucci slides are trending due to the desire for a more comfortable shoe. No matter what you call them, Gucci slides / flip flops / sandals are a fad. It is basically the hottest thing you can walk on! Then you need at least one pair in your wardrobe!
It is almost unbelievable to find a pair of Gucci on sale in a boutique. But online, you can always get 10% off with codes and stuff or more when it is sale season.
So I suggest you shop Gucci online store and don't worry about "Gucci shoe size", I will help you by sharing every experience I had and every detail I know!
In this blog post, I will share quick guide to Gucci slides Fitting and sizing, Some of its pros & cons, how to style the Gucci Slides, and also tending Gucci slides sandals designs details with all of you.
Gucci Slides Fitting Guide
Choosing Gucci Slides that fits well is important throughout the year. Do not forget to value fit when choosing a pair of Gucci's sandals. More time and attention are often spent on fitting shoes than fitting sandals. This is because sandals are considered fun, casual summer wear that is not that important to fit. But often that trusty pair of sandals ends up wearing out more than anything else you own.
When you are shopping for your next Gucci Slides, be sure to put the fit on first. When considering how to wear sandals, here is how to look at these specific types of footwear correctly. Give your feet a treat with a pair of Gucci's sandals that fit like a dream.
The Sole:
When it comes to slides/sandals, the sole or insole is one of the most important aspects to consider. The fit of women/men's footwear will focus on the upper part of the shoe, as it has the potential to contract the foot and limit movement. However, most women/men's sandals are open, so the focus is on the support your feet receive from below.
It is vital to consider where the foot is placed on the sole of a pair of sandals. The heel should have some space between it and the strap if there is a strap on the back of the sandal. If you go for a Gucci flip flops, do not worry! The toes can sit close to the edge of the sole, but make sure they are not positioned over any seams that may rub.
You should also think about the width of the sole when shopping for your perfect pair of men's sandals. Sandals may be easier to put on if you have wide or narrow feet, but if they do not fit properly, they will not provide a comfortable experience. Look at our tips on how to buy Gucci slides for wide and narrow feet below.
Straps:
Whether you are shopping for Gucci's mules, slides, or flip flops, you need to consider straps. At the forefoot, the straps should be tight to hold the foot in place. Those placed further back should have enough slack to allow the heel to lift and move. The ankle straps should fit around the heel at the point where it curves inward for the most comfortable fit. Larger belts tend to rub less as they have more surface area, reducing pressure on a small area. Opt for these for added comfort.
Sizing:
Gucci Slides come in full sizes, so if you usually take half a size, it is best to go for the larger size. It can be tempting to go smaller, especially in open-toe sandal styles that do not restrict your feet. However, it is much more comfortable to ensure that there is a wide sole under the toes. Your feet will be better protected and there will be less chance of hitting your toe if you have a little extra leeway.
Now you know how women or men's sandals should look. But what if you are still having trouble finding a pair that is exactly right for you? This could be the case if you have the common problem of wide or narrow feet. Discover what to search for straightaway!
Strap shoes can be the ticket when you have narrow feet. You can adjust them for a better fit without searching for Gucci Slides with a narrow width. This makes shopping easier and more profitable, as specialized footwear is not always needed.
When you buy men's sandals for narrow feet, you will get more support from a sports sandal. These tend to have an ankle strap that will keep your foot in place, and most have adjustable straps as well.
Alternatively, opt for a pair of men's flip flops. Since they have no lateral support or straps, the width of your feet matters little to the fit.
So, there you have it, buying Gucci slides when you have narrow feet doesn't have to be a chore!
When it comes to Gucci slides sandals, it might also be easier than you think to find loose fitting styles. The key is to opt for sandals without a top or side cover, such as a pair of men's flip flops. Without side straps to tighten your foot, it will feel much more comfortable. Make sure the sole has a wide width to fit your foot. Men with extra wide feet can even find comfortable flip-flops without opting for special sandals.
Gucci Slides Pros and Cons
Pros:
1. Gucci flip flops are an Incredible investment: It is something that you really must experience for yourself. Even better, they come in so many great color combinations. Regardless of your taste, there is a pair of Gucci flip flops for everyone. As they are durable, if you stick with a neutral color, you should be able to wear them for a long time.
2. Classic & Comfortable: Gucci Slides are the most comfortable designer shoes that you have ever tried. They are very classic in style and silhouette. You can walk many miles in Gucci Slides shoes all day on the streets of London with no issues. 
3. Goes well with many styles of clothing: Their durability and convenient function make them ideal for a wide range of casual settings.
For winter, my favorite outfits for these slides include tracksuits and loungewear.
For the summer, shorts and pool sets work best. Gucci slides are perfect for anyone's airport flow. (You will often see rappers and celebrities wearing them at airports.)
Since they run bigger, they are more comfortable when your feet are swollen on the plane. The last thing you want is to be stuck in a pair of lace-up sneakers set at 30,000 feet. Let your feet breathe!
Cons:
Despite all the benefits, some might find Gucci is expensive. You see, the reason they are so valuable is because most cannot afford them. If the flex + novelty + quality factors are not enough to beat the price, you'd better go for something else.
Trending Gucci Slide Sandals:
Gucci Pursuit Slide Sandal
Design Details:
A floral print and logo strap define a well-padded sandal with a molded rubber footbed for all-day comfort. Below, I have incorporated all the specs for this sandal:
Black and white rubber with green and red web
Molded rubber footbed
Rubber sole
Made in Italy
Open toe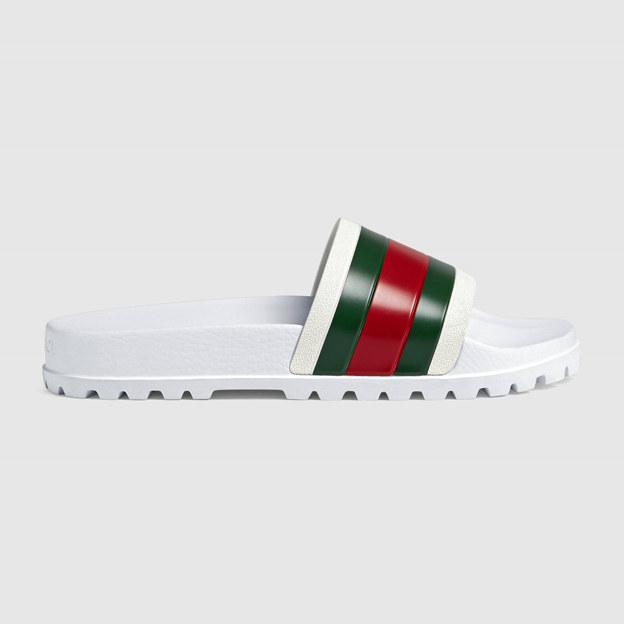 GG Blooms Supreme floral slide sandal
Design Details:
A floral-patterned sandal in supreme GG Blooms canvas with a molded rubber footbed.
Floral-print GG canvas upper
Rubber lining and sole
Padded insole
Made in Italy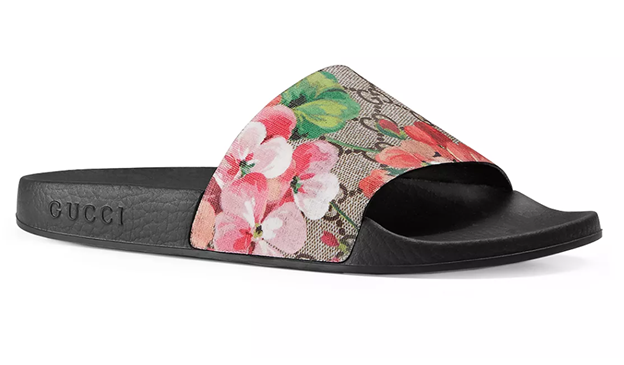 Gucci Thong web sandal
Design Details:
Logo hardware accents a breezy sandal with an embossed footbed.
Patent leather and textile upper/textile and leather lining/rubber sole
Made in Italy
Salon Shoes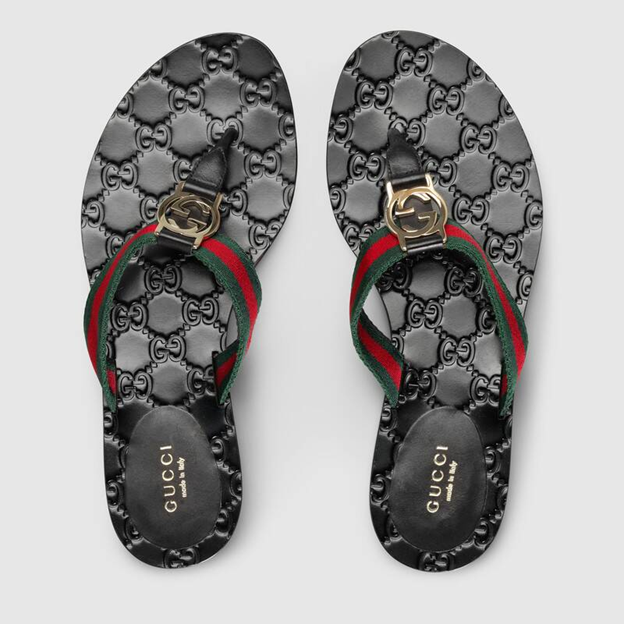 Gucci Pursuit Logo Slide Sandal
Design Details:
An embossed vintage-style logo details the upper of a slide sandal, while a monochrome palette keeps the look sleek and super versatile.
Rubber upper, lining, and sole
Made in Italy
Salon shoes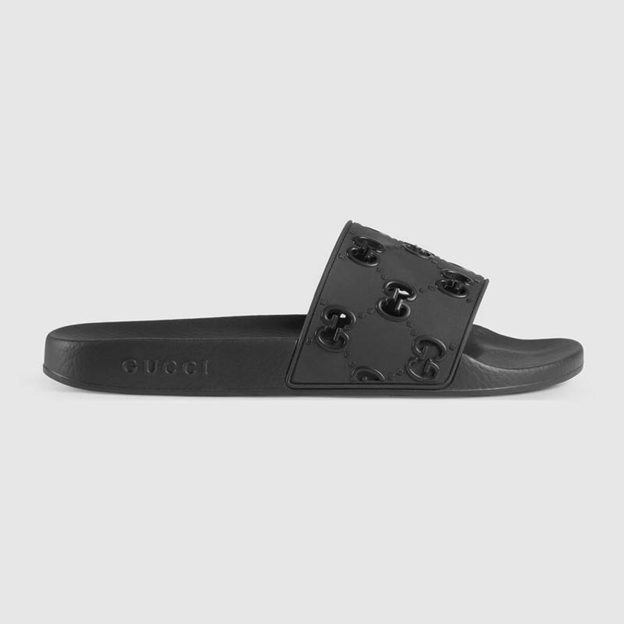 Conclusion:
If you need something comfortable and stylish and then GUCCI slides are exactly what you need! I am telling you, it is the perfect combination of luxury, style, and comfort! If you want to invest in a pair like this, GUCCI is the answer. You have seen that the GUCCI shoe sizing and fitting is not a problem, especially if you follow my advice, you will not have a bad situation.
If you buy it from a Gucci outlet or bagbuybuy.com and pay attention to its maintenance, you may be able to sell it completely or close to its full purchase price and value.
So, what do you think? Do you have any Gucci Slides? If so, do you love it? If you have ideas or questions, you can leave your comments below or send a message to my email: sales@bagbuybuy.com, thank you!